Decorate your basement into a cozy living area that you will love to hang out in. Here is exactly how to do that!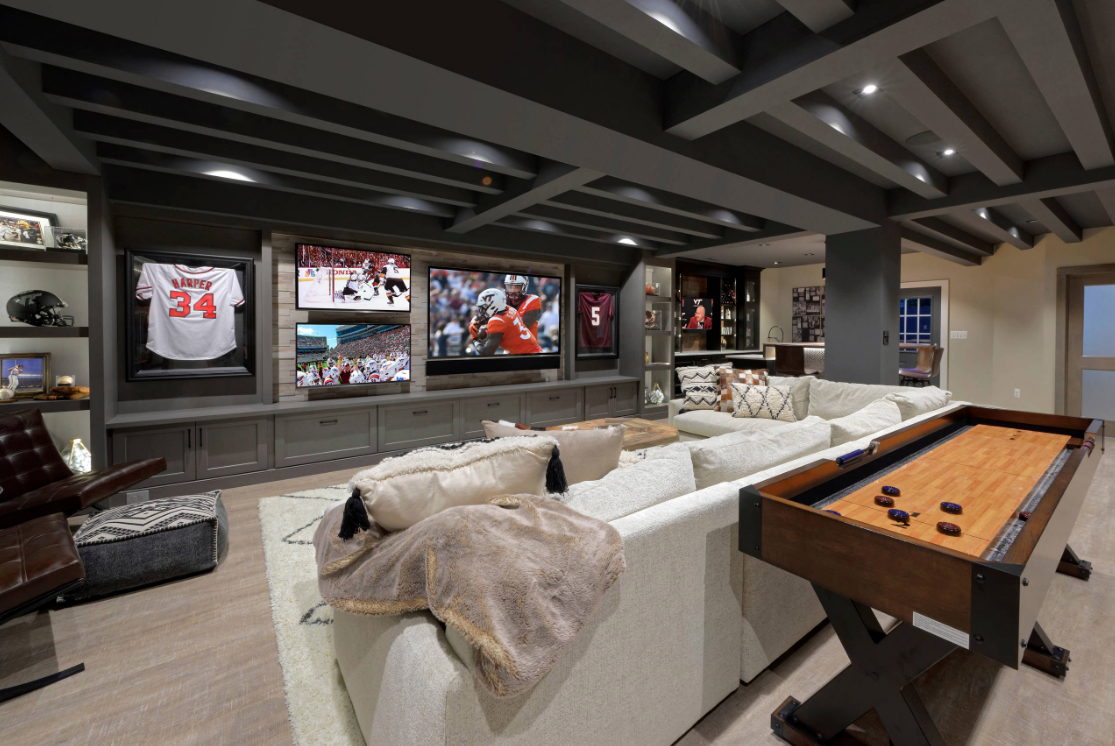 Photo By: Metro Building and Remodeling Group LLC
When I was a kid, nothing scared me more than having to go down in the basement of our house. Dark and dusty with few windows, a cold dirt floor, and noisy furnace clanking away in the corner, it seemed like the kind of place a person could wander into and never come out of! Nowadays, of course, I know there's nothing to be afraid of down there. But that doesn't make the basement any less intimidating. Often overlooked and relegated to nothing more than storage, most basements are ugly, inhospitable places. But it doesn't have to be that way.
There are numerous benefits to renovating the basement. For one, it will probably cut down on your kids' nightmares. But it can also add value to your home. When it comes time to sell, you'll get a much better answer to the question "How much is my house worth?" if you put work into making your basement less scary and more swanky. Here are three ideas for how to do that.
Make it a real room
By that I mean treat it no differently than you would any other room in the house. Instead of being an afterthought, approach your basement as a place where you might actually want to spend some time.  First things first: that means upping your standards for the floor, ceiling, and walls. Still sporting a dirt or concrete floor? Lay down some tiles, laminate, or carpeting. Is the ceiling a rickety mess of exposed beams, pipes, wires, and jutting nails? Cover it up by installing ceiling panels, or at least make it a bit easier on the eyes by painting the pipes, bundling wires together and wrapping them in insulation, and trimming those nails. Are your walls rough and uneven? Hide them behind wood paneling or hire a contractor to build smooth, flat walls over them.

Photo By: FBC Remodel
Get rid of that chill
It's not just that basements look uncomfortable that makes them so scary, it's that they feel it too. Being below ground results in basements that are often cold and damp. Even worse, that's exactly the kind of atmosphere that attracts bugs, mice, and other household pests. Give those tiny li'l squatters an eviction notice with an electric space heater and/or dehumidifier that will help get rid of the goosebumps that pop up on your skin whenever you come downstairs.
Improve the lighting
It's not easy brightening up a place that's underground, but anything's better than a single dangling lightbulb with a pull-string. You'll be amazed at how much more inviting your basement becomes, and how much extra space it actually offers, with better illumination. If you only have one or two small windows, see if it's possible to either add more or enlarge the ones you have. Using mirrors as décor can help by reflecting even a small amount of natural light all around the room. Your best bet for improving your basement's lighting situation, though, is by adding more electrical options. Even a one or two overhead lights, a few well-placed lamps, or a couple light strings can have a major positive impact.