Decorate your home for the summer season with a new design trend: floral wallpaper! Here's exactly how and why you should be jumping on the band wagon!
We all love learning about new decorating trends and since the summer season is quickly approaching, it's time to pop something colorful into your home. Floral kitsch wallpaper may have been in style in the 60s, but trends always come and go… and come back in style! This summer, roll out some floral wallpaper and make a statement in your home. Here's why and how you should be decorating your home with this exciting trend!
Create a Statement Wall
Putting up floral wallpaper throughout your whole space may seem a little much, but wallpapering just one wall in your home will look just as beautiful! Creating a statement wall with colorful, floral wallpaper is a fantastic way to bring color, light, and energy into your home. Think about wallpapering just one wall in your kid's room right where natural light hits to showcase a beautiful print in all it's glory.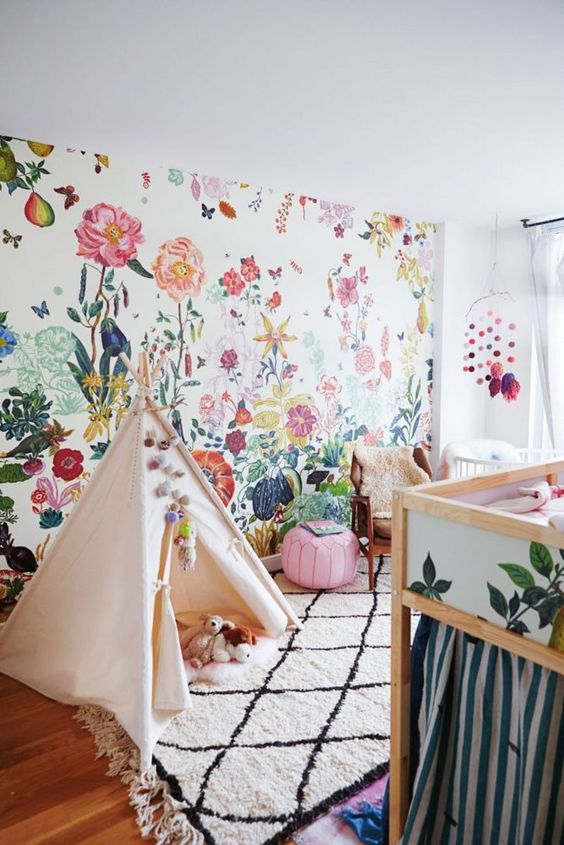 Photo: Domino
Use it In Your Office
We all know that working from home can make you feel unmotivated, glum, and uninspired. That's why I'm always looking for new ways to bring my office to life and create a space that inspires. This white washed office was pretty plain before this wallpaper installation. Matching the chairs and storage boxes to the colors swatches in the wallpaper really tied the whole look together. It's important to make your wallpaper match your room, so a good way is to take color swatches from the wallpaper and use it for the rest of your decorating. Match up your curtains, upholstery fabric, accessories, and finishing touches to make your decorating look seamless.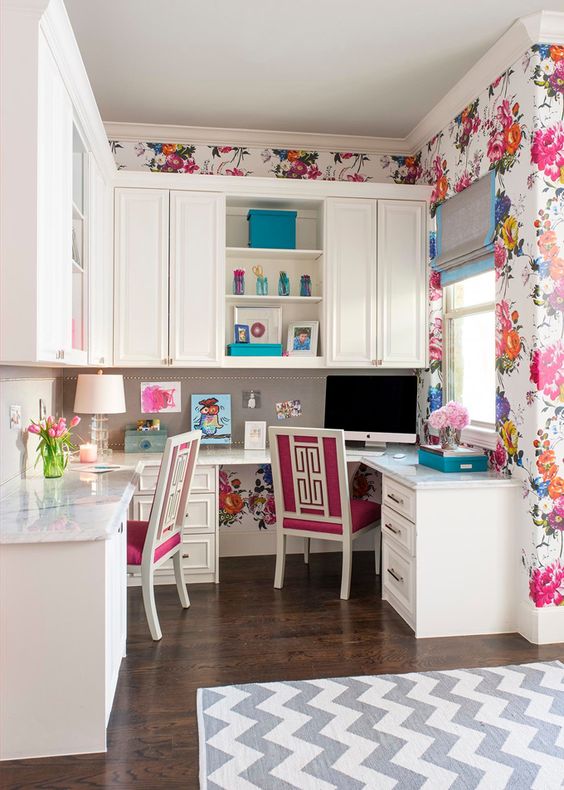 Photo: Bloglovin'
If you are lucky enough, you may even be able to find fabric in the same print as your wallpaper. Take advantage of something like this and use it to create cushions and simple curtains to make your room look customized and put together.
Liven Up Your Bathroom
Bathrooms are the perfect place to experiment with your decor and try something out of the ordinary. The greatest thing about trying a new wallpaper or wall color in the bathroom is that pretty much anything will work in this space. Why? Since there is not much furniture and fabrics in your bathroom, it's pretty easy to make a crazy wallpaper work great with no competition. This white bathroom looks colorful and positive thanks to this drop dead gorgeous "granny floral" wallpaper instalment. If you are afraid to take the plunge elsewhere, take a risk in your bathroom – you definitely will not be disappointed.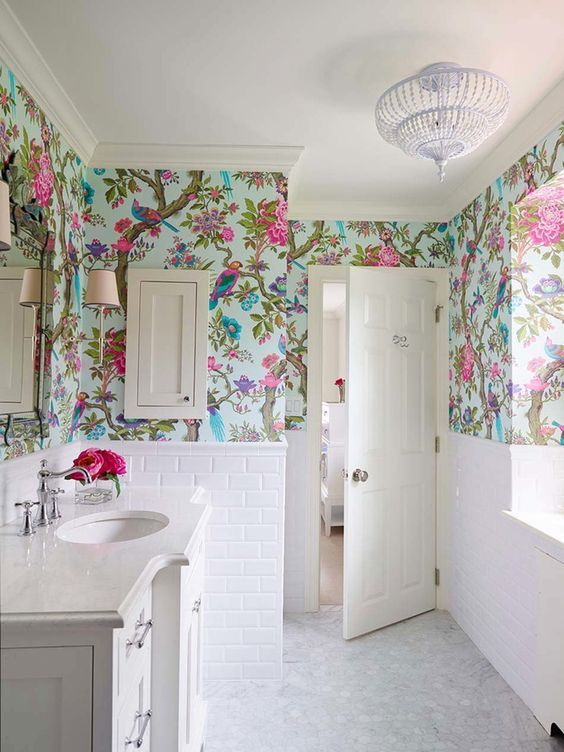 Photo: Style Caster
Use Floral Wallpaper in Unexpected Places
To add an extra pop of color, use floral wallpaper in unexpected places like this cute reading nook. I like to wallpaper the inside of my drawers or the inside of bookshelves with colorful vintage wallpapers for a pop of color! Experiment with different prints and don't be afraid of adding some color to your home. Floral wallpapers are the perfect thing to add some color, energy, and vibes to your home this summer.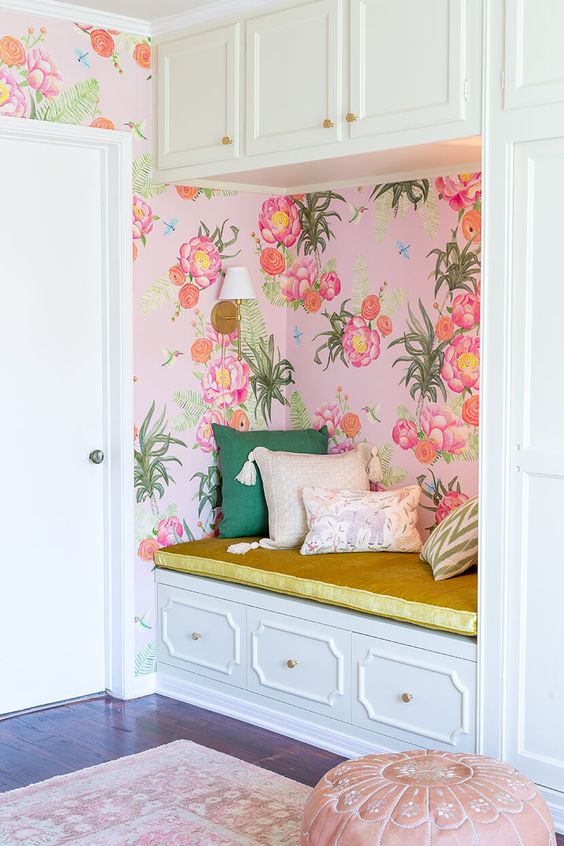 Photo: Shop Catherine Masi