If you are building a custom home, one of the important decisions you have to make involves selecting the right architectural style. This is an exciting stage, thanks to the many architectural styles you can go for. However, it is essential to find a style that you love and also follow the homeowner's association and deed restrictions in your neighborhood.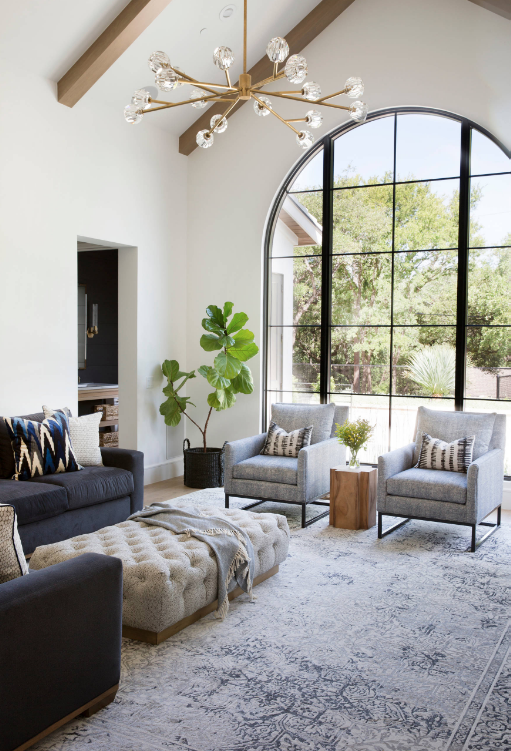 Photo By: Cornerstone Architects
If you have not made up your mind about the architectural style to go with, read on.
How to Identify Your Architectural Style
When looking for your dream home, there are many resources you can use to learn about what you like and would work for your family. Here are some tips that will help you:
Drive through different neighborhoods and take photographs of homes that you like. You may need to visit different custom home communities to get as many ideas as possible.

Search online for images of custom homes that you love. You can find exciting architectural styles on Instagram, Houzz, Dream Source Home, Homebuilder Digest, and Pinterest.

Browse various interior design magazines to look for inspiration. Some great choices include Veranda, Elle Décor, House Beautiful, Dwell, Luxe, and Architectural Digest.

Consider your environmental and lifestyle needs when evaluating potential architectural styles for your home.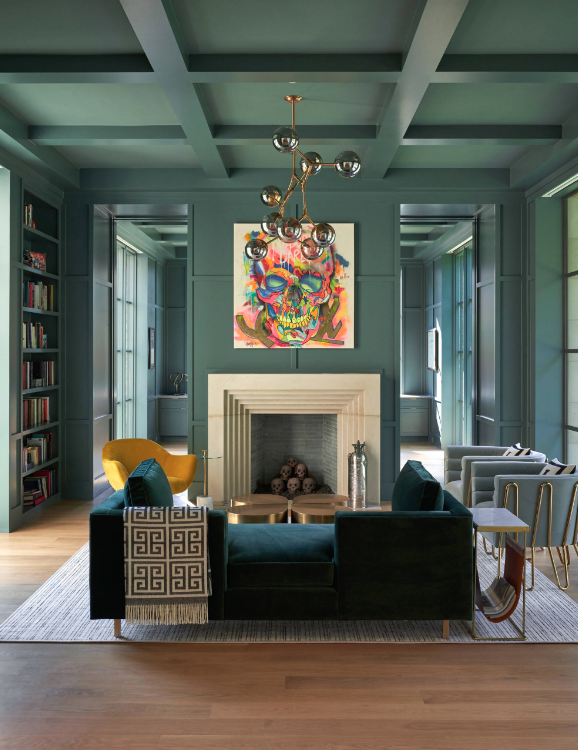 Photo By: Coats Homes
Common Architectural Home Styles
Let's now look at various home styles.
Modern Style
The Modern style features a geometric residence. Most of the time, the design encompasses a flat roof and clean lines. The floor plan is usually open and spacious, while the windows may extend from the floor to the ceiling. The typical materials used in Modern style architectural design include reinforced concrete, steel, and glass. If you are unsure about an architectural style, both real estate agencies and design studios can order a 3D-rendering in a professional studio in order to see the final result of the architect's project. This way you can get a better picture of how your home will look like once finished. 
Mediterranean
Mediterranean designs feature both indoor and outdoor living. The styles are based on a combination of Spanish, Italian, and Moorish architecture. The architectural designs typically feature large, open outdoor spaces complemented with plants and other natural elements. Mediterranean architecture designs have low-pitched roofs and clay tiles. The layout is usually asymmetrical, which is common with exposed beams and archways.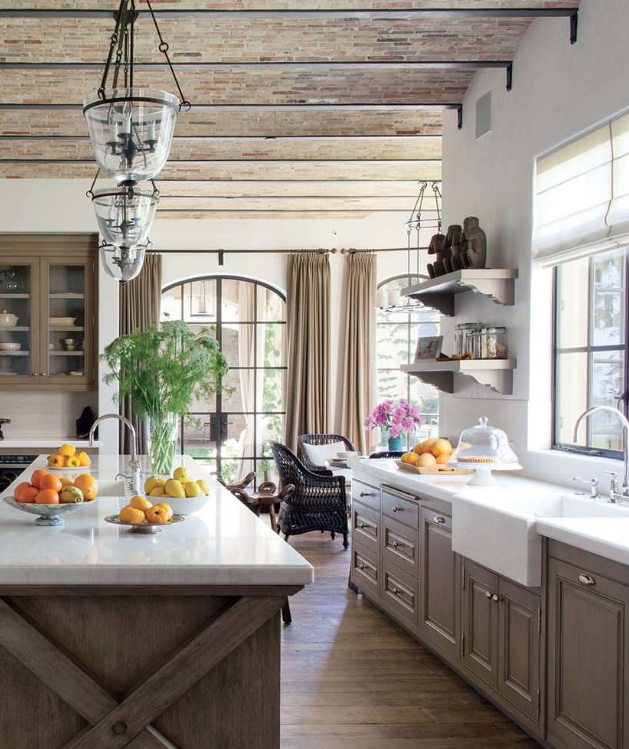 Photo By: Elite Cabinet Designs
Spanish
Spanish architectural styles are easy to identify, thanks to their red-tiled roofs and stucco exteriors. The traditional designs tend to have central courtyards for outdoor living. This design features windows and doors carved from wood. The windows are typically small, allowing light but not too much heat. Spanish style homes have low-pitched roofs, and wrought iron is usually used for decoration.
French Chateau
French Chateaus typically feature dramatic chimneys and steep-pitched roofs. The homes tend to be rectangular and have relatively open main living areas. However, the rooms are a little more discrete. French Chateaus have conical shapes and can have three or more levels.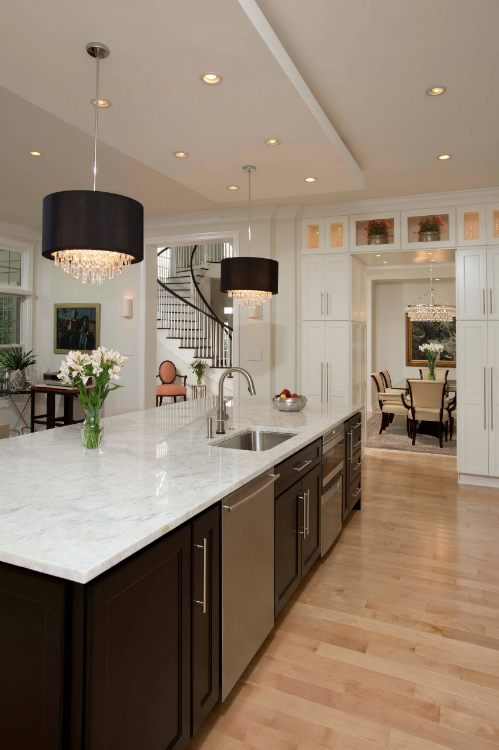 Photo By: Michael Nash Design, Build & Homes
French Country
French Country homes are more straightforward and less ornate than French Chateaus. The residences are smaller, and the rooflines are less extreme. The interior typically includes high ceilings, and the floor plan is symmetrical. Hip and gabled roofs are typical of French County houses. For the exterior, the homes feature antique bricks or stones.
Common Home Buyer Mistakes to Avoid
After deciding on the architectural style, it's time to start searching for a house. Here are some tips that will help you avoid the common pitfalls many first-time homebuyers make:
1. Not researching and preparing well
Before starting your search for a new home, understand your family's finances and needs. Analyze your existing assets and liabilities and get pre-approved for a home loan before starting house hunting. Remember, you are not just buying a house, but also the location. Therefore, find out as much as you can about the prospective neighborhoods where you'd like to live. Some of the things you should check include transport, crime level, quality of schools, and possible upcoming zoning issues. 
2. Choosing the wrong mortgage
To have a bargaining chance, get pre-approved for a loan before going house hunting. Don't just search online or use an online calculator to get an idea of how much you can borrow. Hop over to this site to find out more on home loans. There is no room for assumptions here. Get in touch with your mortgage broker and find out how much you can get pre-approved for. The lender will consider different factors to determine how much finance you are eligible for. Get quotes from different lenders and compare them before making the final decision on the party to sign a contract with.
3. Being influenced by the market
When searching for a home, your needs should dictate the type of house to go for. Don't be influenced by "the market" more than your own needs. The real estate market always experiences a cycle. Sometimes, it's a buyers' market, and prices are low. Other times, it's sellers that are having a field day. However, when you need a home, do not let the market dictate your decisions. For instance, do not postpone buying a new home because of market conditions. You cannot predict the market cycle, and failing to act in anticipation of upcoming cycle trends is gambling with your future.
4. Buying an expensive home
An expensive home is one that is beyond your budget. When you start house hunting, you will come across many properties that are beyond your budget but look just too lovely to pass. However, do not be tempted to buy a house that is outside your budget. Doing so can leave you in serious financial trouble in the future. When lenders approve you for a loan, they know that you are capable of paying it back based on your past transaction history and other factors. Spending more on a house than you had budgeted can leave you exposed to potential financial shocks, for example, rising interest rates.
5. Falling in love with a house
If you have found a home that you love, do not let the seller's agent know. Agents can be very aggressive and persuasive when they know that you are interested in a particular property. The professionals are good at reading emotions. As a buyer, there is always a house for you at the right price. You need to know where to look and be patient. If you cannot afford a home, move on and keep looking. Avoid the mistakes above when searching for a house to buy.