The holidays are quickly approaching making this the perfect time to spruce up your bedroom in style! Follow our easy ideas to glam up this special room!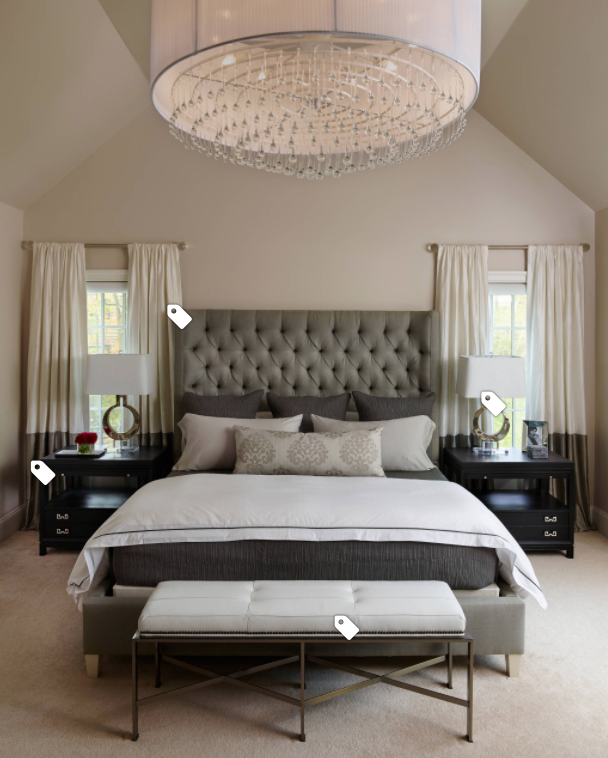 Photo: Michelle Wenitsky Interior Design
Is your bedroom looking a little dull, boring, or are is your decorating way too démodé? The new year marks a special year full of a ton of exciting decorating trends that designers can't stop talking about. From mirrored vanities, to bohemian headboards and luscious trendy colors, there is definitely something for everyone in 2018! Let's get started with some of my favorite trends that I am dying to share with you guys…
Go Bold with Colors
Give your bedroom a sophisticated, glammed up look this holiday season by going bold when it comes to wall colors and accent pieces. This beautiful sea blue wall color adds an unexpected flair to this room and really makes a magical design moment. If you are a little shy on going so bold, start off with one wall as an accent wall. For example, make the wall behind your bed and headboard an accent and centerpiece by painting it a strong color that really stands out. Then, to add some serious panache to you room and top off your look add a fun accent chair!
Think About Nailhead Studs
Nailhead studs continue to be one designers favorite details when it comes to furniture pieces, and it's so easy to get this look yourself at home! You can easily buy nailhead strips that hammer onto furniture, headboard, your walls, and decorative accessories. This is one way to get that designer look for less, without having to break the bank. Take a look at the bedroom below, the matching headboard and dresser all feature nailhead detailing, but along with a heavy price tag!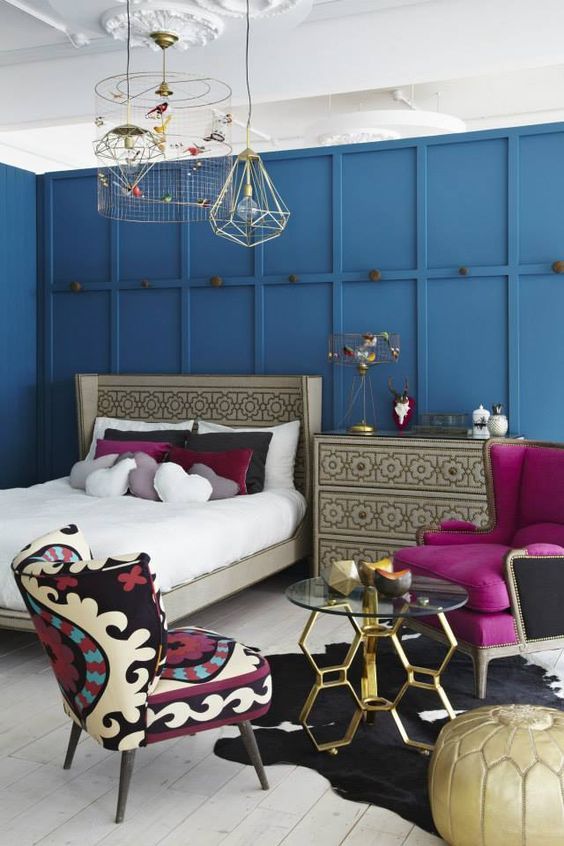 Photo: Boca Do Lobo
Go Wild with Animal Hides
This trend may not be for everyone, but animal skin hides continue to be one of designer's favorite tricks when it comes to adding some chic-ness to a space. There is something about animal skin hides that really bring a room together and add a cozy well put-together look. Thanks to new methods of dying and printing, cow skin hides have been made to look like zebra skin, leopard, tiger, and even versions with glittery gold specks on them. What a way to glam-up a look this holiday season!
Opt for a More Comfortable Mattress
First things first, think about your comfort before you go jumping into new decorating trends that may not feel so great after all. Don't splurge on the latest trends until you've settled that your mattress is comfortable and you can get a good nights rest. First, test out your mattress to see if you even need to purchase a brand new one. If you can feel the springs, dents, hollow areas, or if you mattress is stained beyond washable, it may be time to purchase a new one. Find a reliable mattress dealer in your area, or consider purchasing one online to save time as well as shipping costs. Buy mattresses from Fantastic furniture or other online stores that are reliable and have a large selection. If necessary, go to the location and test them out to find out what mattress would be best for you.
Think About Lighting
Is your space looking like there is definitely something missing or something you should be hanging above your head? Chandeliers are my favorite way to finish off a space since they bring in some serious designer worthiness in a pinch! Scourge flea markets for unique vintage chandeliers if you really want to get an artfully tailored look. Then, hang up a pretty mirror that faces the chandelier to further promote your new lighting bouncing throughout the room. I love chandeliers with crystals and reflective pieces just because of this!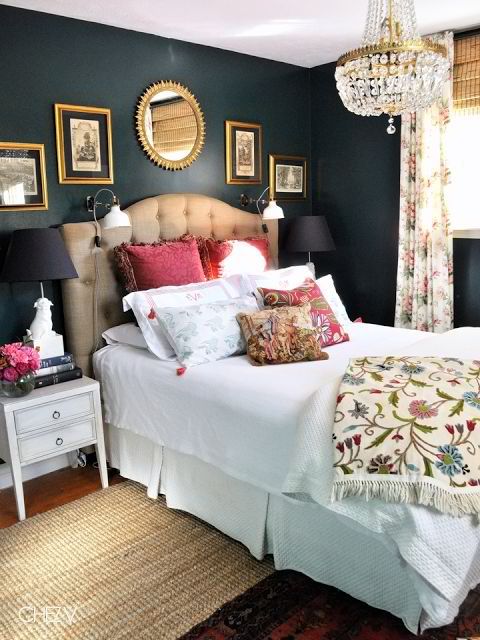 Photo: KB Home
Dress up Your Curtains
Instead of opting for neutral solid curtains, dress up your bedroom for 2018 by hanging up ikat printed curtains to really elevate your bedroom for the new year! If you are not familiar with ikat, it's a fabric that is made using a dyeing technique to pattern textiles similar to tie-dye. There are tons of motifs available that have ethnic, ritual or symbolic meanings and they are a great way to dress up a room and add a little bohemian flair.  You can purchase these fabrics or imitation ikat fabrics at just about any home fabric store to give your room a beautifully designed look for less!
Add A Tropical Flair
Even though the cold seasons have long ago started, it's always a great idea to create a at-home oasis right in your bedroom! Tropical colors such as watermelon pink, green, as well as bamboo furniture and banana leaf fabrics are always an easy way to have California at your fingertips. Interior decor is all about having fun and experimenting so why not bring the sunshine straight to your bedroom!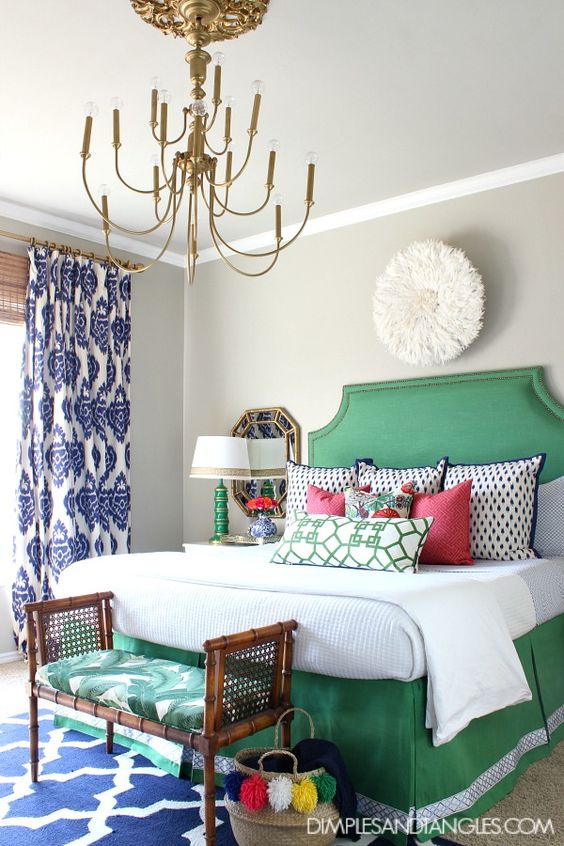 Photo: Dimples and Tangles