Contemporary gardens are great spaces for entertaining guests and relaxing with friends. Nowadays, people are moving away from traditional gardens and are instead opting to turn their outdoor spaces into extensions of their modern homes.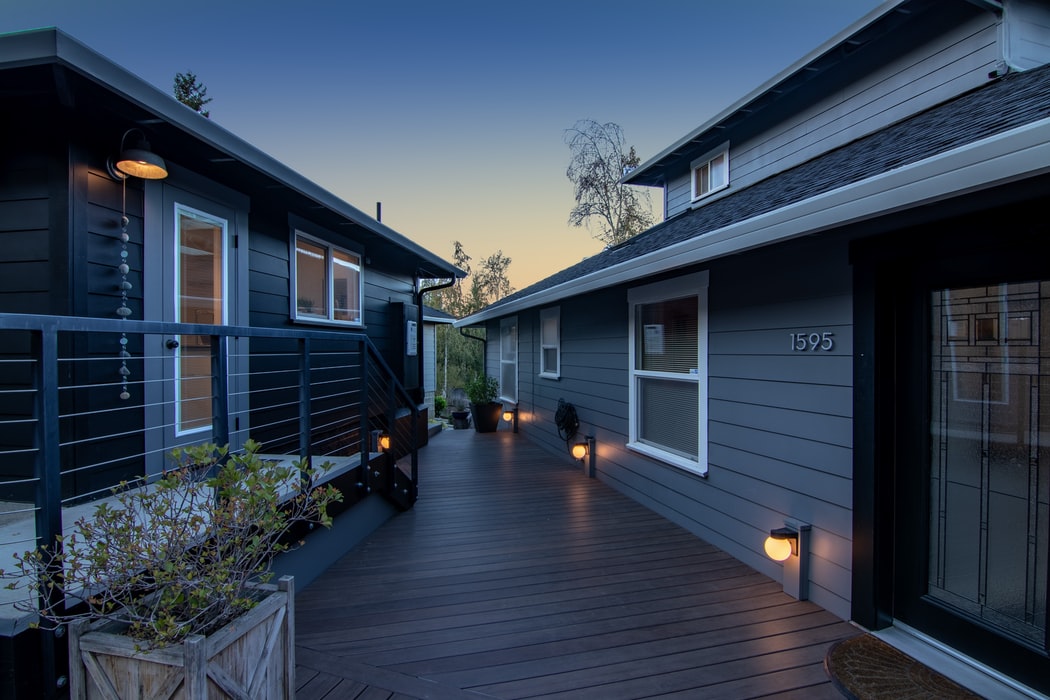 One of the key features of contemporary gardens that we see time and time again, is a monochrome colour pallete. White, blacks and greys are often favoured over bright colours and loud patterns because they make a space look simple and clean. You can see in the photo above that grey decking can be contrasted with white accents and chrome accessories to give an ultra-modern finish.
Arguably, grey composite decking is one of the best choices if you want to make your garden look more contemporary. But why choose composite decking over other materials, you ask? Well, composite decking has some special features that make it perfect for low maintenance modern garden designs.
Low Maintenance
Once you've gone to the effort of bringing your contemporary garden to life, the last thing you want is to be faced with hours and hours of maintenance every year. First of all, you're going to struggle to find timber decking that's naturally grey in colour. If you do decide to go down the natural route, it's almost certain that you'll be faced with the task of painting the entire deck annually, just to keep it looking grey. Sounds tedious right? Unlike other types of traditional wood decking, high-quality composite decking will never need staining or sealing. In fact, it has a polymer sleeve that keeps it pristine for years after installation. Choosing a low maintenance material is important because patchy, worn or faded decking can instantly ruin the allure of your modern space. All that composite decking requires is a quick wash down with soapy water, so you can spend less time maintaining your deck and more time enjoying your delightfully, modern garden.
Slip Resistant
Nobody wants a garden that they can only use for a small fraction of the year. Choosing grey composite decking will help you make the most of your contemporary garden all year round. That polymer cap that we mentioned before, is designed to prevent water ingress. This drastically limits the chance of mould or ice forming across the surface. slip resistant material! So, whether a drink is spilt during a garden party, you're caught out by the rain, or you want to make the most of your garden on a chilly autumn/winter night, there'll be very little chance of a slip or fall.
Hopefully this blog will give you an insight into why grey composite decking is an excellent choice for contemporary gardens.