If you plan to build your home or start a new investment, remember that it is an opportunity to customize and create a space however you see fit!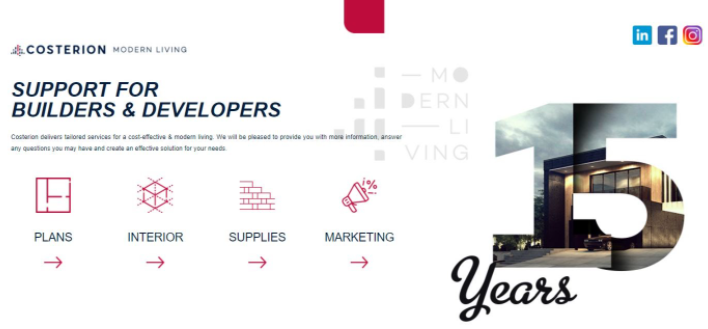 COSTERION.com offers designs of unique and modern houses. If you are a company that needs assistance in the process of construction and brand building, Costerion offers many services to cater to your needs. Keep reading to find out more!
Planning to build a house, make it your home and take advantage of the opportunity to  customize a space that is ideally suited to everyone's needs. After all, NEW HOME is the place to bond with those you love and entertain new friends. The house you build should be a perfect  match to the land you decide to live on. Additionally, a designed home needs to be environmentally friendly so that it meets the latest standards. Although it will cost more to implement these environmental systems at first, you will save on maintenance fees down the road.
Ready Made or Original Design 
When you commit to building a home, you will have a lot of choices, and one of the  most important selections will be to choose between a Prefabricated home or a custom  home that is special and unique to you. For each choice, you get to check out designs,  photos of the construction process, and the final product. Get some expert opinions from people who have purchased a new home, both from original designs and pre designed homes. Check discussion boards and forums for advice, tips, and  information that can help you decide on the type of home to buy. Some advantages of a predesigned home are shorter investment times, a sense of security knowing that these  homes have been tested and optimized for lower costs during construction, and that these designs have been looked over many times. Pre Designed homes have many advantages, however choosing the Original Design option has its own attractive aspects such as being able to customize your home to your needs. Before you make the choice between the two, take advantage of the project consultancy services to determine which solutions are most optimal for you.
If you are looking for an Original design, we can help! We can research and gather  the specific requirements in terms of space, planning, and the appearance of the  house tailored to your specifications. Your original design may require a plot of  land with an unusual shape or size and we are happy to accommodate you in this  venture. You will need an architect who understands your needs and listens to  every creative detail in order to develop your dream house. While an original design  can cost more than a prebuilt design, your house will be original and a space you  can really relax and entertain in, and best of all – call home.
Another more advanced solution to your new home is the adapted project.
"When there are many possibilities like partitioning walls, doors, and window locations along with smaller elements, customers have the option of deciding to introduce these small changes" – says Marcin Kostka, owner of the Costerion company.
Just because you choose the predesigned option, it does not mean that you can't change it! When selecting a premade project, always ask questions as to what extent the project can be modified. A great architect will always have the answers. To see exceptional example of both methods, you can go https://costerion.com/plans where you can purchase a plan of your future house.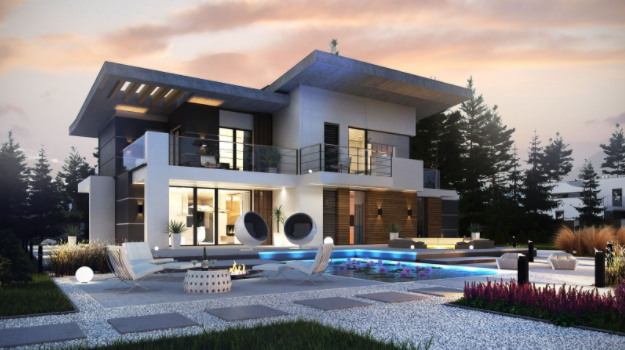 Understanding Your Own Unique Needs 
The first step in designing a home is to create a checklist of ideas and decide on  what you want most. This applies to making modifications to a premade design and  to a custom home. If you are working with an architect, do not be afraid to  communicate your ideas so that you can talk about it with him and get feedback.  The size of the home can vary depending on how many people you plan to live in it  with. You don't want to spend money on space that you don't need. As for the  space you want, that is up to you! If you like working from home, then you can add  an executive study room to cut business expenses while creating a quiet space.  Plan on having friends and family over for long luxurious weekends? Consider  adding guest rooms to accommodate them comfortably. Utility rooms like the  laundry, pantry, and basements or sunrooms for extra entertaining space are also  necessities to consider. Remember to add a recreation room to explore your  creative pursuits. You ultimately want and need an original design that will allow for  unlimited possibilities. If you want a more simplistic approach, then a premade  design just might be the answer for you. Check out www.costerion.com/3d for more information.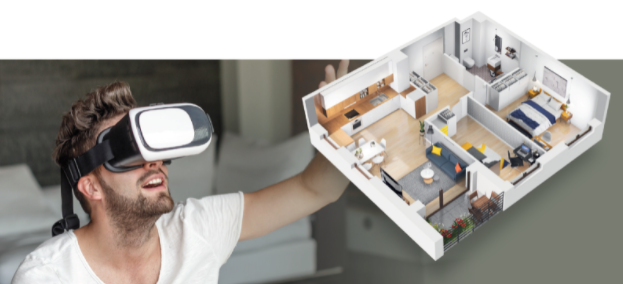 Planning Your Space 
When planning your space, there are some basic principles to consider. The living  room and dining room should ideally be looked towards the south and southwest side to get a lot of natural light from the sun. When you eat your meals or spend time with friends and family it is always nice to do it in the warmth of the sun. To make sure you take advantage of the sun you would also want bigger windows, a staple of modern design, along these rooms. Another way to use the sun is to align  your solar panels towards the sun to get as much solar energy as possible. This will  save you money and help the environment.
Other factors to consider would be to divide your house into smaller zones. The day  zone consists of room like the living room, dining room, kitchen, office, guest  rooms, and bathrooms. It would be best to choose to have these rooms have  access to natural lighting. The other zone is the night zone which consists of master  bedrooms, adjoining baths, walk-in closets, kids' room, and play areas. These rooms  do not need as much sunlight, but they need more privacy, away from activity of  potential guests. Finally, there is the communication zone that consists of rooms  that everyone in the household can be in to feel connected to each other while  enjoying the space.
We can tell you all about how to properly organize spaces, but it's hard to visualize  how these spaces look like in the proper place. Words can only do so much to show  you the potential of your future house. To help you visualize your future house,  Costerion offers services like virtual walk throughs of the house to let you have a  visual experience with the future space. If the planning becomes too complicated,  then we can guide you through the process. For more information you can check  out https://costerion.com/3d. As a company or as an individual, Costerion is able to supply the technology and supplies to bring the building from thought to reality.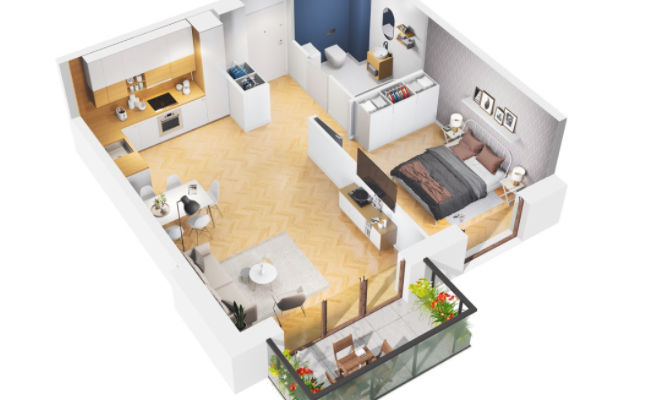 Getting the Right Materials 
One of the most crucial aspects of building a home is to use the right materials. You  want a house to last for decades, to be sturdy, and of well-built construction.  Whether or not you are looking to build a home or a company trying to get  materials for a house, it is always important to have access to the materials you  need right away. Think about the various possibilities available when choosing  construction technology. You have choices between ceramics, concrete, wood  (including wooden beams to accentuate the home), or the most expensive  materials, or use a majority of prefabricated elements which can save you money and time. The right building materials are also key to achieving optimal energy  efficiency.
An environmentally efficient home will save you money time and time again. A well  built, environmentally friendly home requires less energy to heat and cool resulting  in affordable energy bills and fewer headaches. Insulation materials can range from  mineral wool, foamed polystyrene, or polyurethane foam. The amount of material  used and the selection of the most effective in a given category is important.
All of this leads to the question of where do you find these materials? This can be a  very stressful part of the process and it can seem overly complicated, however if  you go to https://costerion.com/supplies you can buy/find building materials  dedicated to your projects all in one place.
From planning, to designing, and to construction, the whole process can seem very  convoluted with all of the different people that need to be involved. However, with  our partnership with other companies, we can make this  process very seamless and efficient for you. If you are a company looking to have a  lot of these steps done efficiently, or an individual trying to build their dream home,  then Costerion is for you.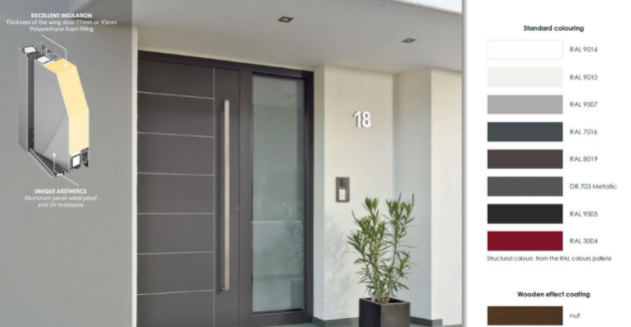 Smart Home Technology 
Lighting adds a special touch and a sense of warmth to any home. Effectively,  illuminated elements of the house bring out the beauty and charm of the  architecture, creating an atmosphere to be desired. Lighting adds a special  ambiance in a garden, allowing you to admire and enjoy the landscaping in the  evening. It also has a special significance in keeping your home safe with lighted  driveways and garages.
When designed a modern house, there are options to add smart home elements  (IBMS or IIBMS). Modern building management systems can help to optimize  energy consumption in the home by controlling the central heating system, air  conditioning, heating elements in the floors, sprinklers, blinds, and even lighting  and alarm systems. These amazing technological wonders can allow you to manage  your home remotely to give a sense of added security and a feeling that you are  home – even when you're away. There are very simple changes that can be done  that makes the old ways seem primitive. Examples of said changes can be smart  lighting and automation that will help with the way of living. As you enter the house,  the lights can turn on automatically or when you leave a room, the lights turn off  which can also help you save energy and money.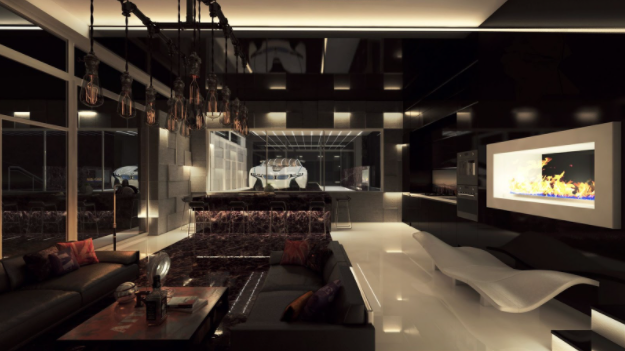 Building Supplies 
Aside from the materials used to construct the building, there are other aspects of the  building that are needed to give it that aesthetic finish and completion. These can be  windows, doors, and garage doors. Windows and doors are things you always go and look  in and out of, so when you go in and out you want to see beauty. With Costerion, you will  be able to handpick whatever kind of window or door you would like to add to your house.  To help you with that we also offer all of these essentials in the three-dimensional space.  We can, as said before, create rendering, visualizations, plans, and virtual tours to make  sure that your house is exactly how you want it to look.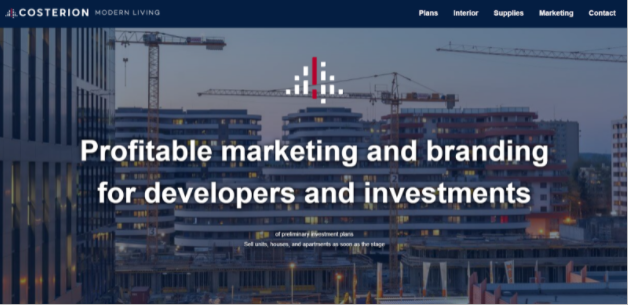 Brand and Marketing 
If you are a company looking to build a house to sell, marketing is always important.  Costerion cooperates with a professional marketing agency that can build your company  with a marketing strategy plan from the logo to the website with online shops and social  media campaigns. If you want to check it out you can visit https://costerion.com/marketing