Creating an immersive living room is all about being bold and unique. In this article we show you how to bring character with ideas you may have not thought possible!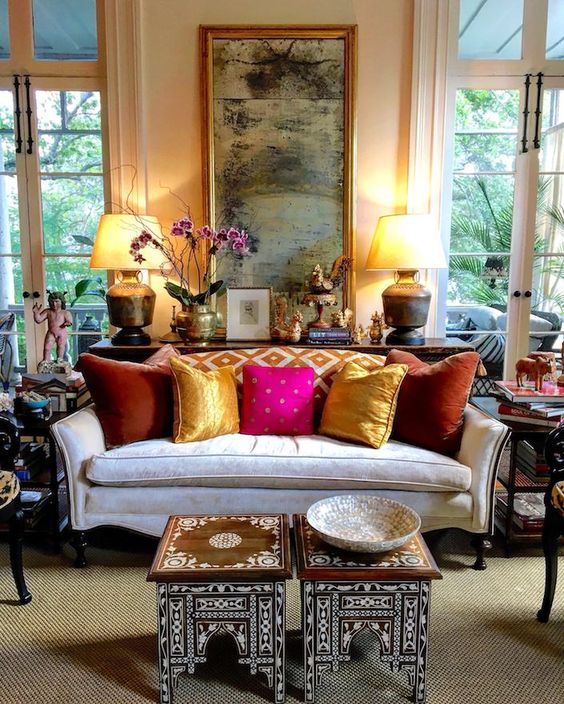 Photos Via: Pinterest Source
We take a look at the world of antiques and how the smallest of ideas can create the biggest of changes; how traditional elements such as colour schemes and paint ideas can bring changes that are easy to achieve.
1. CHOOSING THE BEST SKIN FOR A TRADITIONAL ROOM
The colour scheme of a room is the foundation of any design and the play on contrast is what makes everything so effective. Darker colours are always more traditional and work well when paired with more traditional materials. If you're feeling like you want something less intimidating, it's always an idea to paint one wall and contrast it with lighter tones or alternatively using whites and grey tones all round provide the perfect clean backdrop for your more traditional furniture.
2. EMBRACE PATTERNS AND TEXTURES
People always make the assumption that different patterns and textures don't coincide. The joy of using antiques is that every room can be completely individual. You can of course opt for a more put-together design, but having everything clash isn't necessarily a bad idea. Follow what your love and embrace whatever your heart desires. However, there is one rule – keep it 50/50. One should never overpower the other.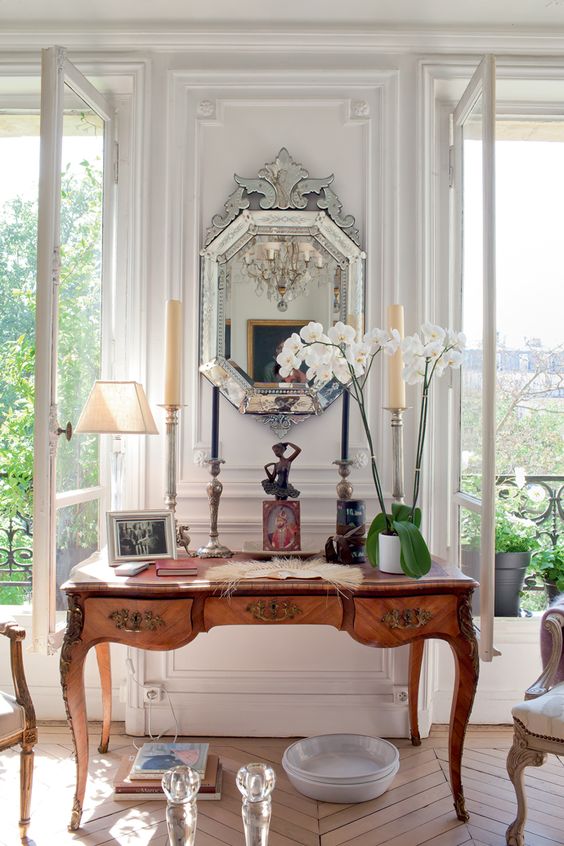 3. MAKE ANTIQUE FINDS THE HIGHLIGHT OF THE ROOM
If your home is already privileged enough to have a period feature, like in many cases an antique fireplace, let it be the centre of attention. By keeping everything around it neutral, there's no doubt it's bound to create a sense of awe when guests walk in. A fireplace is great as it can be restored almost effortlessly too.
4. A SPELL OF THE OUTDOORS
Plants are a great way to introduce a diverse air within a home (no pun intended). By adding different-sized plants and pots, within theme, you are not only making the room look fresher, but you are also providing a natural air filter for your home.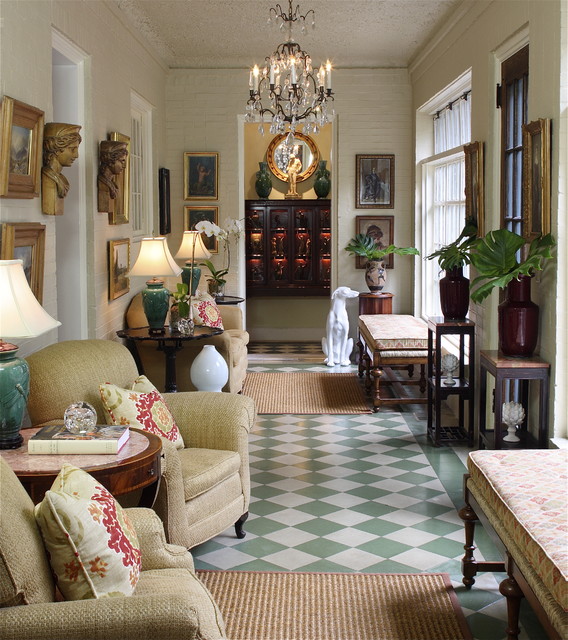 5. OVERSIZED ANTIQUES IN SMALL SPACES
When you're playing around with a small room, big isn't always best. However, not when it comes to antiques! By introducing items like saucer-shaped sofas or stripped down dining tables, you are creating a sense of grandeur into a small contemporary room. These focal items paired with the right modern accents can change the aesthetic of a room very quickly.
6. PLAY WITH LIGHTING 
Playing with light fixtures may be one of the easiest ways to combine the old with the new. Adding a small chandelier can create all different types of possibilities in what can seem like a simple contemporary space.
[perfectpullquote align="full" bordertop="false" cite="" link="" color="#cf61ba" class="" size=""]Floor and table lamps come in all different shapes and sizes too and when picked correctly can provide the right ambience for the right time![/perfectpullquote]
7. PLAY WITH REFLECTION
Mirrors have a great way of being able to open up a room. What's also amazing is that you can play with the placing, big or small, there is always a place for them. Items like a French gilt mirror add instant character to a room and can be a great way of tying the room together.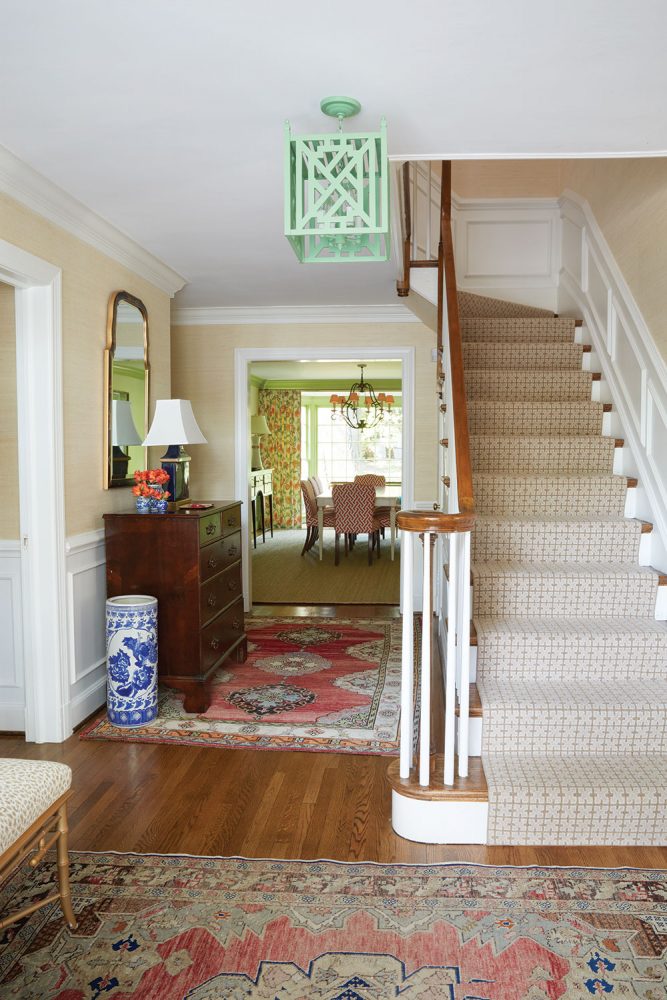 8. EXPLORING THE UNDERNEATH
Exposed and reclaimed floorboards boast all the characters of which new flooring can't compete with. It instantly adds a new look to any room and can provide a refreshing contrast to what lays on top. Whilst they look beautiful, they are also environmentally friendly and after a job well done, it will look like a brand new floor. Re-purposed rugs can also add an element to a room that a carpet never will. Take a Persian rug for example, whilst they can be bought new, antique rugs really show the craft and technique and will most definitely add to the aesthetic of any room.
9. DECORATING YOUR WALLS 
Whilst some people may find the task of delving into antique furniture a daunting prospect, pictures are something that everyone can relate with. In a world that's so heavily obsessed with photographs, why not invest in some frames that will visibly alter the look of any room. With this, many is never enough, and playing with different shapes and sizes is a work of art in itself.
10. RECYCLE & RECLAIM
If you ever feel like something you own is an obstacle in your road to reinvention, recycling your old furniture with a lick of paint or even just a fresh varnish will be the best thing you can ever try. Cheap but very cheerful, re-using worn furniture is the best way to spark a new joy in your living room. Websites like Craigslist provide endless amounts of items that are ready for a new home and with a bit of work will feel like they were there all along.