With the passage of time, new styles and trends of kitchen decoration have been launched. Thanks to the creative minded interior decorator to make all this possible.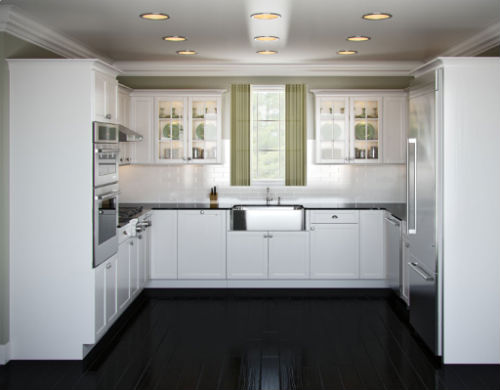 There are chances that you live in an apartment or home with small kitchen. But this doesn't mean its decoration isn't important. The truth is each and every part of your home/apartment requires your attention. If you feel that some parts of it need a total renovation, don't forget to plan something nice for the kitchen as well. The u-shaped kitchen designs are much in trend across America, Canada, and Europe. It is an efficient way of kitchen decoration.
Purposeful U Shaped Kitchen Styles
Obviously, your kitchen's u-shape is a purposeful and exceptional idea. This matches well the density of the small area, and at the same time makes the kitchen look innovative. Allow your interior designer to set all the things as per the shape of the kitchen. He/she may get a stove of medium size, will throw out some utensils, giving space to newer ones. Also the interior decorator will adjust the wall paints of the color scheme that is perfect for u-shaped kitchens.
Here you just have to stop interfering, letting them work freely so that the end result is highly impressive.
U Shape is good to cope with small space
Do you have to cope up with the problem of small space of the kitchen? If it is so, there is no better option than to have u-shaped kitchen. You are needed to have efficient application of furniture and equipments in your kitchen. The best way is to apply upright design. The wall mounted cabinet will give you good and efficient application. Position the cabinets above the countertop to get best results.
Have some storage efficient ideas by combining small floor base with wall mounted applications. Your u-shaped kitchen has to not look odd and boring, and for this, the space saving ideas have always to be remembered.
Small Applications of Smart Items
It is obvious that in a u-shaped kitchen, you cannot place large and big things. If you feel that you have to collection of some heavyweight items only, it is time to change them all as none of them is going to be suitable for your kitchen. The selection of the appropriate kitchen items for a u-shaped area is the key to success.
Begin by repairing the small spacious kitchen design. The very first thing you need to do is to clean up the kitchen goods and avoid the crowd. Tiny kitchen cabinets of colorful paints will suit you the most. Have a small closet for putting cookware and kitchen spices. Small kitchen design minimalist needs to be laid out with multifunctional furniture so that the overall environment doesn't look crowded.
Also remember that if your kitchen had another shape, you may have to spend extra money to get a u-shape. Don't worry as this is going to be worth your money, time, and efforts. Just give freedom to yourself and of course the interior decorator so that the desired goals of u-shaped kitchen can be achieved in an efficient and effective way.