It is like the dream of everyone to have eco-friendly homes. For this, we don't hesitate to spend thousands of dollars. Hiring an interior designer means you have gotten freedom from the designing-related problems as he/she will manage everything. Allow them some time and give space so that their creativity results in marvelous and well-decorated homes. Once the decoration is completed and you are still not satisfied, turn your home into an eco-friendly environment. How? Here are the tips for eco-friendly home environment.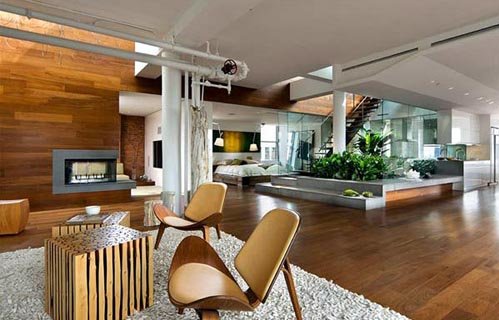 Spacious and Charming Windows
Spacious and charming windows should be a part of every room. Replace the old windows with eco-friendly versions as this has a big payout. Double and triple-pane windows insulate much better than single-pane styles. These are also energy-saving, and environment-friendly. These also play their vital role in reducing the amount UV rays entering the rooms. Installation of new windows has not any alternate if you are curious about eco-friendly environment. Spend money on brick-to-brick replacement rather than retrofitting.
Landscaping and hardscaping
Homeowners put lots of work to make the inside of their homes green, but paying attention to outside environment is also important. Corporate hardscaping features such as patio stones, and plant native plants. Maintain the beauty of your garden. Plant shady trees, shrubs, flowering plants, and water them on a regular basis. In short words I can say that both landscaping and hardscaping are must to ensure an eco-friendly environment. Strategically placed trees are responsible to provide your home with more shade, and keep the overall environment cool.
Lighting
Proper lighting plays key role in the beauty and charm of your homes. Replace traditional light bulbs with energy-efficient ones. I would like to recommend that you use LED bulbs in every room. These may be a costly option but are known for their superb characteristics such as a lifespan of 25,000 hours, so you may never have to replace them. Make sure all the rooms have proper lighting arrangement. Avoid the use of bright and irritating tube-lights. Try to keep the lights at 80% of full power for better results.
Appliances
Outdated and old appliances can leave bad impact. Why not consider to replace them with something better and amazing! It is okay if you love your old home appliances, the new ones can save your energy bills and can have much better properties to ease your lives. Start replacing the old appliances with the new products of the kitchen. Have a new dishwasher, microwave, and refrigerator. Then come to your bedrooms and replace the heavy, odd furniture with something lightweight and pretty design. Last but not the least, consider to replace the dining table of living area as well as the bathroom products. If this sounds like you'll go over-budget, then the ideal option is to spend some money on used yet branded items that cost cheaper than the new ones.
In any of the above situations, you can give better look to your home. Some of these tips can be applied to offices and other areas as well. The purpose is all to give you freedom for enjoying eco-friendly environment. At the same time, you need not to cross your expenditure limits. Remember to take the right decision at the right time to avoid any kind of confusions.